Here's A Real Estate Investing Niche
That REALLY Is Done With...

No Cash

No Credit

No Personal Risk
(And Very Little Patience)
Tim Randle from REIClub.com here.
No need to grab a beverage. Sit forward. This won't take but a few fast minutes.

Real Estate Wholesaling. Even if you think you're not interested in Wholesaling, I think you'll be surprised by at least two things...
Here's the deal:
Wholesaling works very nicely in today's Real Estate market and it's especially good for newer Real Estate Investors. Here's why:
Reason #1

:

It's FAST - You pull your "reward" out of the deal up front.
No waiting around to rehab and resell it or rent it and get a
little back (hopefully) each month. Wholesaling is definitely
King of CASH FLOW.

Reason #2

:

It's EASY - Wholesaling is straightforward and simple. It
doesn't require you to master all kinds of nuances or fancy
moves.

Reason #3

:

NO CASH (or financing) required - How many people who want
to build wealth in Real Estate have no cash of their own? You don't
need cash to Wholesale.

Reason #4

:

NO CREDIT required - You don't need financing so your credit
never comes into play. Good, bad, non-existent - doesn't matter.

Reason #5

:

NO Personal RISK required - You will not be holding property,
AND you'll be fully protected by your contract from any personal risk.

Reason #6

:

Paid Learning - The three experts I've assembled all said:
"Wholesaling is the very best (and fastest) way to learn how to
put together profitable transactions".

So whether you stay with Wholesaling forever, there's no better
way to learn how to profitably put together deals...
and you'll be getting paid to learn.
(This is one of the surprises)
Now it's not all balloons and party favors...
You see one of the advantages of Real Estate Investing relative to other money-making vehicles is developing passive income. Put in work up front to acquire an asset that continues to pay you in the future. With Wholesaling, you get paid for the transaction. You don't acquire an asset. And there won't be a future income stream.

However, Wholesaling can give you two things:
Cash to stack up and use to acquire properties.
The ability to sell EVERY oyster while you're looking for the pearls.
(Buy-and-holders have to open lots of oysters too, but they throw
them all away. You can sell all your not-great deals and only keep
the very best for yourself.
This is what I created for you today:
REIClub Wholesale Interviews CD set. Three content dense interviews with seasoned Wholesale pro's who are ACTIVE in the market today. This is not days-gone-by stuff...
Wholesale Pro #1: The "Fonz" of Wholesaling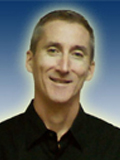 Mike Collins started Wholesaling before it was "cool", actually before it was even a niche over 20 years ago. When he first got into investing he did the "normal" thing - bought properties and rented them out. Suddenly he found himself with a big cash flow problem.

Wholesaling brought in cash to bail him out. And then became his niche. He's done over 700 deals, mostly single family. He only keeps the very, very best for long term rental, wholesales the rest.

These days Mike relies mostly on the internet to find sellers and buyers. Using the internet for lead generation he's done 70 deals.
Mike gives you:
The most valuable thing you'll learn doing Wholesaling
The secret Mike uses that

consistently

gets sellers to sell to him instead of anyone else... you can use this secret to dramatically improve your investing no matter what niche you choose
Why Wholesaling is like milk and bread
4 effective ways to market for leads and which ones are best when
The most cost effective way to use the internet for leads
Your URL should have these two words in it
Which properties are the best to Wholesale - by far - and how you can find these properties no matter where you live
The two characteristics that nearly insure a seller will accept a wholesale offer
Characteristics of properties that are unworkable for Wholesaling
The biggest mistake people make when Wholesaling
The most important valuation tool and how to use it... no one else uses it this way
Use this formula to determine your offer price
The workflow Mike uses so that he's able to buy 1 of every two houses he looks at
Minimum amount of money you should make on a deal (or walk away)
3 ways to develop a buyer's list... bet you've never heard of two of them
If you're new to investing start here

"I found the interviews wonderful! It provides a view from different perspectives and different approaches. It provides you with a wealth of information and opens the floodgates of your imagination, convincing you to believe that you can do this. It is very difficult, as a beginner, to turn your fear into faith and step out of your comfort zone. These interviews give you the strength to at least try. I recommend that anyone interested in real estate view these interviews."

Pamela Johnson
Austin, TX


"REIClub has the most comprehensive resources available, so I turned to them and discovered the expert interview series on Wholesaling that I would need to exploit my newly discovered niche.

Could you use some killer lead generating marketing tips to fill your deal pipeline? Than Merrill has several proven strategies that you can use in your business right away. I also discovered Than's niche for deals where there is almost no competition. In addition, find out what he does for at least one hour a day to stay in the game.

If you want to know how to attract buyers for your deals, then get a hold of Steve Cook's interview to discover his unique 100% financing package he created for his buyers that allows him to get to sold in less than an hour.

If you are just starting out and want to emulate an every-day-man approach to wholesaling, "Lunch Box" Mike Collins should be on your short list. Mike gives you a guerilla marketers approach to finding deals, and is adamant that you provide a human touch when establishing contact. Then, listen to find out what quality is essential if you hope to close a high percentage of deals.

The interviews were loaded with great content, and each had a story of struggle that preceded their success, which I found to be revealing and engaging. You will benefit immensely from their insights. I did."

Steven Treece
Peoria, AZ


"I like the transcripts. It allowed me to underline areas of interest and make notes while at the same time listening to the audio. The yellow page "interview nuggets" for each interview was also very helpful in recapping the interview. Bottom line, the package is very helpful to anyone that is in or is considering real estate wholesaling. For the little investment made on these interviews, there is no reason why one should not be able to start their wholesaling business after listening to these audios.

Than Merrill - The secret to success is marketing, in particular, internet marketing. Building systems at every level that includes generating leads and a buyers list; learning real estate transactions; learning how to sell. Than focuses on pre-foreclosures, fire damaged properties, and probates. He buys these distressed properties at 70 cent or less on the dollar based on comps. He will sell properties he buys to someone on his buyers list or by marketing on the internet. Stay educated.

Mike Collins - There is very little risk in wholesaling if you know how to do it. Mike uses Laundromats, door hangers, and in the beginning, bandit signs. Wholesaling houses is a commodity brokerage business. The commodity is a 3 BR 1 BA or 2 BA between 1000 to 1500 sq ft., in an area that is below the median price of the neighborhood. You need to know the wholesale value of houses by first knowing the true comps for your area and the true repair cost. Don't be greedy and build relations with your buyers. Learn and start simple. Understand contracts and know how to protect yourself. Work with list brokers to find buyers. Go to auctions at courthouses. The internet is key to marketing. The main thing is to JUST START.

Steve Cook - No cons in wholesaling. Be a bird dog to learn the trade. MLS, REO, estate sales, and HUD properties are places to find deals. Pay high referral fees to be on everybody's top of the list. Leave emotions out, this is a business. The key is knowing a motivated seller. Use my title company and my lender. Buy a house that fits the lender's program. Work with a small local bank to see what programs they offer. Also find a private money lender. Once in place, start making offers."

Bert Arispe
San Antonio, TX 78229

Wholesale Pro #2: Cooks It In Wholesaling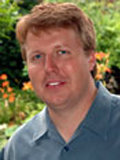 Steve Cook was a restaurant owner in the late 1990's. But it was his bacon that got fried. After failing out of his restaurant he had lots of credit - all BAD, lots of debt and lots of creditors with his number on speed dial.

He wanted to become a Real Estate Investor but without credit and with an IMMEDIATE need for cash, the typical stuff wasn't gonna work. He needed quick paydays to both feed the creditors and feed his family. Wholesaling was the only strategy that worked.

He's done over 450 deals and is trying to "slow down". He also teaches.
Steve serves you:
His three favorite types of sellers
How he has arranged for 100% lender financing on all his deals for his buyers making his deals easy, smooth and nearly guaranteed to close
Why he buys mostly off the MLS
The very best type of lender you want to work with
How he easily finds out which title companies to work with and which to avoid... and demands the buyer use his title company. This saves you all kinds of hassles and heartaches
The strategy he uses that has people running to him with their deals before anyone else (and gives him first pick at the very best deals)
The lesson you must learn before you will ever make it as an investor
His simple offer price formula
The one - and only - clause he includes in his offers and is still fully protected
Use this kind of Real Estate Agent to bring you sellers and this kind to sell your deals... they're opposite in a number of key ways
Steve's workflow... he starts by slinging spaghetti on the wall, finishes with a fabulous meal
Want to be successful?... Do this

"Cook Interview was informative, very concise, and straight forward....great ideas on how to get the best deals in the area and partnering with new investors to get good deals."

Karen Dematteo
Manassas, VA


"I can tell you that in reading these interviews, they are very informative and there is a lot about wholesaling that they talk about that I didn't know. It is truly a learning process for me reading the transcripts of these interviews. The interview with Steve Cook was very informative. Good ideas & tips that I should be able to use once my business gets off the ground."

Mary Mathews
Bedford, TX

Wholesale Pro #3: Scores Big In Wholesaling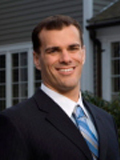 Than Merrill went from mixing it up on the football field to mixing it up in Real Estate Investing. (Well, there was a pit stop as a Restaurateur, but there's no tale of glamour there). Those 100 yards of white-lined real estate didn't teach him how to win in Real Estate Investing... that he learned himself.

Constant learning AND implementation are basic to becoming successful according to Than.

Than is best known for his show - Flip This House - on the A&E network. He started buying rental properties, then focused on flipping and now mostly does Wholesaling. He currently does 8-10 deals a month and has done over 350 deals.
Than throws you these winning tips, tactics and game changers:
This is at the core of all Real Estate success and these are the 3 critical elements
Your competitive edge is how well you...
Repeat this mantra everyday
Everything you do is a ________
Your education should include Real Estate and these 3 other areas
The one book you should read (at least twice), highlight and implement
We do these four things with the pre-foreclosure market. The last one gets us more sellers than our competitor
This market is very good (and overlooked) for Wholesaling. Use this filter to narrow the pool to the very best ones
NOBODY looks at this market. These are about the very most motivated sellers. Three ways to get leads in this market
Another good Wholesale market and the two filters to use to get the most motivated sellers
Than's 3-step lead evaluation process
Why if you're not online, you may be spending your future at the museum
5 methods of driving traffic to your website
How to make easy videos work extra hard for you
How to get your video spread far and wide with just a few clicks
The two things Real Estate Investors (potential buyers of your deals) are looking for online and how to give it to them
Use this FREE website to bring you a constant flow of leads

"Than Merrill's interview was real helpful with my website. He showed me that you got to offer something on your site that will be of value to the viewer, other than your own personal story of real estate investing. You got to make people want to go to the site, but also when there, want to work with you and leave their contact information. I know now, that I am going to make my website more interactive with videos and information that will make the viewer stay in contact with me. Most importantly, he stressed you got to be active and do your business, while at the same time setting time a side to learn and review infromation and ideas about real estate, in order to improve yourself and your business. Great advice.

I found Mike Collins biggest secret very interesting, being a people's person, and having empathy for the seller. I think that is a big part of the business; listening to people and helping them solve their real estate problems. This is skill in active listening is something that all real estate investors should have because, like Mike says, "it opens up more possiblities in ways to acquire real estate." This will definitely give an edge over your competition. Plus, its reassuring to still hear that he uses the traditional methods of marketing, bandit signs, door hangers, postcards.... I kept putting the door hangers out there myself and it has finally paid off!!! I got my first response yesterday, and I am meeting the owner tonight. And traffic on my website is up, too.

I really like Steve Cook's interview. He didn't hold back and gave a lot of good information that I can use right away. His approach to using a shotgun method of making offers with a realtor is a real gem of an idea. By being able to provide 100% financing for his buyers, he really exemplified why its so important to work closely with local bankers. He further elaborates why its so important to put together a solid team because they can be your bird dogs for you as well. All of this will definitely help anyone find more deals for themselves and be able to find buyers who will be able to quickly close the deals."

Andrew Christen
Chicago, IL


"The Wholesale Interview series is a great place to start getting information if you're new to Real Estate Investing and want to see if Wholesaling is right for you. You basically get an hour long interview with three of top Wholesale practitioners in the industry, and they don't hold anything back. They made me realize the importance of wholesaling for generating cash flow early on as well as learning the business before investing your own money.

Tim Randle does a great job asking all the questions that you would want to ask if you were able to take one of these people out to lunch.

The great thing is, each investor gives you a unique perspective on their style of investing. It really showed me there's no one way to do this successfully.

Mike Collins - I really enjoyed his style of taking time to listen and be empathic with the home sellers. People want to be heard, and when you allow the seller to trust you and feel comfortable, they will be more willing to do business with you. He also gives a bunch of valuable rules of thumb, for what types of property to look for to be the most successful with.

Steve Cook - Steve's approach is more of a numbers game. He recommends constantly putting out offers and not to embarrassed about low balling. His big secret that I found valuable, is he offers $10,000 to anyone that brings him a good lead. He has found that this makes him the first person people call, and even if he can't use the deal himself, he has a network that he will pass it on to. Great marketing insight!

Than Merrill - Than's interview was awesome. You can feel the passion he has for his business, and it was really interesting to hear that even though he is famous for the show Flip this House, his main business in Real Estate is through Wholesaling. Than is an expert with online marketing and has a lot of good recommendations for getting started.

It was great to hear three different yet successful approaches to the Wholesaling! Very high value for the low price of this series, I highly recommend!"

Jarrod Feran
New Orleans, LA

Wow! That's a lot of hard core, kick butt, insider info
These interviews are a little different and I don't want you miss that important point.

First, each Pro emphasized that at the core of successful Real Estate Investing - no matter what niche - is knowing how to do transactions. How to separate the deals worth doing from the ones you should leave behind. How to find motivated sellers. How to structure the deal so you get the most you can out of it. And how to create a profit for yourself.

They all agreed - without any reservations - that Wholesaling was the very best (and fastest) way to master transactions. You're also learning without taking on any personal risk. So even if you think Wholesaling is not a good niche, it's worth considering doing it for awhile for the (paid) education alone since it'll simply make you a better Investor.

Second, no cash, no credit, no personal risk, fast, easy - you simply don't find all those characteristics in other niches.

Third, with Wholesaling you look at a lot of deals. Some aren't worth doing at all. But of the ones with potential, you can scoop off the very best for yourself and still make money on the others. The typical investors let all those go and don't make a dime on them.

Fourth, there were a few gems of information on these interviews that are like having lunch with Warren Buffet and being let in on life-changing WISDOM. Wisdom is the diamond that results from years of polishing a pile of information coal. Warren auctions off a lunch every year for charity. Last year the winning bid was $1,680,300.

You can grab all three of these interviews for a mere $39.95. That leaves you plenty of change for a burger and fries at Warren's favorite diner. So, even if you think Wholesaling isn't for you, you should still listen to these interviews to become a better Investor.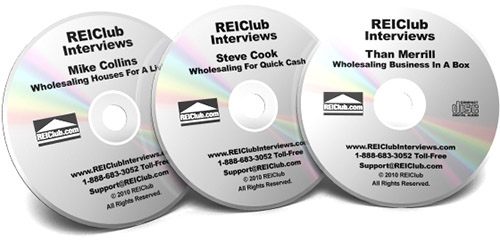 "Wholesale Interviews"
100% Ironclad Money Back Guarantee

I"m so confident that you will love this powerful real estate investing information that I"m willing to bear 100% of the risk for the next 30 days. That means that you can get in now plus get all the bonuses RISK FREE and give it a shot for 30 days. If you aren"t happy for any reason simply let us know and I"ll immediately cancel your order and I"ll even let you keep all the bonuses as my way of saying thank you!




But Wait! Let Me Make This Even Easier For You!
Order Right Now And You Receive All These Extra Bonuses...
Yours Absolutely Free!
Complete Transcripts of All Wholesale Interviews -
($75 Value)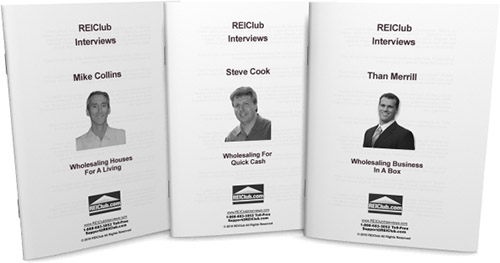 Here's a secret that's guaranteed to give you the mind of a Real Estate genius:

Some people learn best with audio. That's no secret.
Some learn best visually. That's no secret.
But the most powerful way to make something second nature, to fully integrate powerful, profit-making ideas into your brain, so you can recall them on command, is to use multiple senses to digest the information.

Was there a part that wasn't quite clear...
Want the EXACT wording of a script or power persuasion phrase...
Want to jump to a part for quick review...

You'll have the transcripts to read over, scan and skip through, study and markup with notes to easily review when you need that clarification or re-introduction.

THAT'S why I went through the extra time and expense of having each interview professionally transcribed...

...because when you're done, you'll have a mind like a steel trap, full of the best money-making ideas in Real Estate today!
And...
And...
Interview Nuggets
Focus, they say, is like a laser beam. Each interview has a handful of critical points. I've pulled them out for you and had them printed separately so you can easily grasp and review them at any time.

These little cheat sheets reveal the most important focus points from each expert. Read over them before listening to the interview to prepare your attention and again after the interview to cement those important points in your memory.
And...
FREE Trial Membership in REIClub Pro
You get complete access for one full month to the deepest - and growing - Real Estate Investing library available today. REIClub Pro has over 140 multi-media trainings available on every Real Estate Investment topic imaginable. Plus a full array of forms and resources to guide you through business building and real estate transactions.

I pay your dues for this state-of-the-art wealth building University the first month where you can get a professional education that could mean tens of thousands of dollars for your business!

And if you find out you can't live without it - as so many others feel - you'll simply invest a modest $39.95 per month to keep it coming non-stop. New content is added monthly.

The first month is on me. You can cancel any time, without obligation. But I can't say that many do - this is one of the best values in Real Estate Investing available today!
And...
FREE Fast Cash Wholesaling Houses Fast Start Audio
Fast Cash Wholesaling Houses is a step-by-step home study course on building a Real Estate Wholesaling business. This course leaves no detail untold and the Fast Start audio is a full overview of the wholesaling business.

Wholesaling is an excellent skill to have - this audio will be a perfect complement to the how-to information you'll receive from this expert series.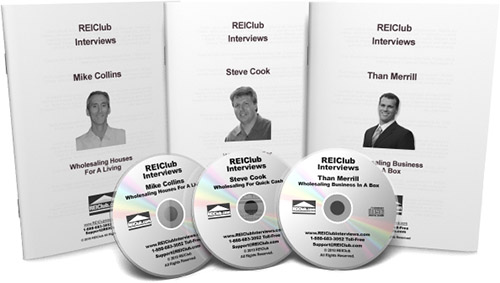 "Wholesale Interviews"
Don't pass up this opportunity to sit down with seasoned masters while they share their finely-tuned processes, systems and hard-won wisdom.

Good Investing,




P.S. We reserve the right to change or remove this offer at any time. This 3 CD set has sold previously at $97. Please note this is the lowest price at which this offer has ever been available and we make no promises this price will be available the next time you return.
Yes, I Want These Interviews Now!

"Steve Cook's Interview was a great interview on wholesale for beginners, because Steve broke it down simply enough for me to follow. Steve emphasized networking as one of the key factors to becoming successful and he tells you how to network efficiently. Steve tells you how to start making contacts, filtering contacts, and how to be the first person everyone goes to when they got a deal or want a deal, 'breeding bird-dogs'.

Another key point is that he tells you his escape plan out of a deal, which is easy enough for anyone to do, this was probably the best advice I got from this because I know I need an escape plan and had no idea of what it should be. The second best advice, is Steve's way of offering 100 per cent financing to buyers, which also ties into the networking aspect that he touches on.

Mike Collin's way of buying houses is done on a more personal level than most investors would like. He actually goes out to inspect the houses and talks to people and he tells you why getting personal makes a big difference. Mike tells you straight up what works and what's fluff and tells you how to find profitable wholesale property that are right next to you. What I felt was the best advice for me, was all of the marketing tips he gives you and how to get them going. He tells you what works for him and what was a waste of time and a lot of money. I am definitely going to be implementing his marketing strategies since they are so cheap and effective.

The biggest point in Than Merrill's interview is efficiency. The phrase that I will always remember from this interview is that real estate investors make money based on how effectively they use their time. Than takes it home by telling you how to be efficient with your daily tasks and real estate tasks. Than goes into great detail on using the internet to get a list of buyers and sellers and tells you sites that I have never heard of to multiply your marketing power. I am definitely going to use these sites to make my presence on the internet.

I personally enjoyed this interview the most, because I am very similar to Than in that my greatest weakness is that I take on too many tasks at a time. But Than gives great tips on how he improved on his weaknesses. Also, another great point about this interview is that Than doesn't just impart knowledge on real estate investing, but also on how to win at life and what it takes to constantly improve your business."

Andrew Woo
Mililani, HI


"The interviews with these three investors that REIClub has made available are a great way to get your creative juices flowing regarding wholesaling, especially if you're new to real estate investing. Ideas related to generating leads, wholesaling rules of thumb, and musts when writing your contracts, are just a few of the great things I learned while reviewing these interviews. This purchase will definitely help me as I begin my real estate investing career - I'd definitely recommend them!"

Chris Van Dyke
Fitchburg, WI


"The interview series on wholesaling properties was definitely one of the better investments I've made in efforts to better equip me to become a real estate investor. It was great to have not just a CD to listen to, but the transcripts as well so that I could go back and re-read anything that was said that I didn't understand or were useful. It appeals to both your visual and auditory learning. Also having three different professionals provide three different perspectives on how to do wholesaling, which gives you more options and the ability to find methods that are most suitable for your situation. I absolutely loved the diversity and the convenience of this interview series.

I will be able to utilize Steve Cook's advice of adjusting your pricing formula based on the market and finding a title company that you can use for all your transactions. From Mike Collins I learned the power of the internet and sites that can be utilized in order to make sure you have a presence on the web. Lastly, from Than Merrill I learned a new niche I can try such as looking at properties damaged by fire. These are things that I have only learned from purchasing these interviews. I will be implementing this information into my business and much more. I hope that I can continue to find more useful and insightful products from REIClub in the very near future."

Simone Lott
Minneapolis, MN